Joe is an accomplished pianist. He comes from a musically talented family. His father performed on the saxophone and clarinet in various bands and orchestras in upstate New York as well as in The Army Band. As a result, Joe was raised in a home filled with music of various types including jazz, blues, standards, popular and rock. Joe took piano lessons at an early age, performed on keyboards in various bands/combos and made his first solo piano performance at the age of 17. He studied classical music in college and continued performing solo piano as well as with various combos. As a result, today Joe has a repertoire of approximately 200 songs he can play from memory in a style described as beautiful, expressive and with a velvet touch with the aim of fully pleasing his very diverse audiences.
In addition to performing, he has produced three CD's which are showcased in the Products section of this website. Several of his compositions have been recognized in the Mid Atlantic Song Writer's Contest.
Joe has performed at various venues and events across the US but primarily in the Richmond, Virginia area for the past 25 years.
Examples of venues and various events in which Joe has performed:
Hotels and Resorts such as The Greenbrier (America's Resort)
Country Clubs
Retirement Communities
Lounges/Restaurants
Wedding Receptions
Private Parties (such as anniversaries, cocktail hours, dinners, reunions, and other special events)
Public Concerts (such as the Richmond Firehouse Theatre)
Look at our products section below to find out about how to obtain your copy of Joe Loschiavo's most wonderful recordings.
Products
You can purchase any of the items below emailing your request to Joe at Jologrand@gmail.com. Below are three CD titles that are available pictured at the right (or at the bottom of the website when using a mobile device). CD#1 and CD#2 are available for $10 each and CD#3 is available for $15.
CD #1: "Here's To You"
(Available in CD or MP3 format)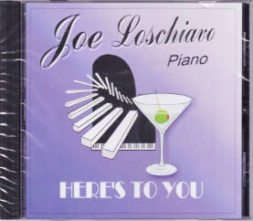 Here's To You
Phantom of the Opera Medley
Obsessions
Ebb Tide
The Dancer
Send In the Clowns
Everlasting
Whiter Shade of Pale
Actions
Unchained Melody
Without You
CD #2: "You Take Me To The Top"
(Available only in MP3 format)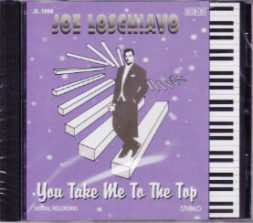 You Take Me to the Top
Misty
Memories
Near You
On My Own
Colors of the Wind
Chariots of Fire
Memory
Allegheny Waltz
The Entertainer
I Dreamed a Dream
Knights in White Satin
As Time Goes By
Someone to Watch Over Me
Gone With the Wind
Golden Hero
CD #3: "Reflections"
(Available in CD or MP3 format)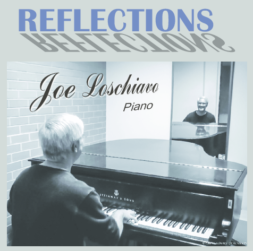 New York, New york
Alfie
Don't Cry For Me Argentina
If I Were A Rich Man
I Can't help Falling In Love
Desperado
Sunny Side Of The Street
My Way
The Way You Look Tonight
Satin Doll
The Sound Of Music
I Left My Heart In San Francisco
Night And Day
Fly Me To The Moon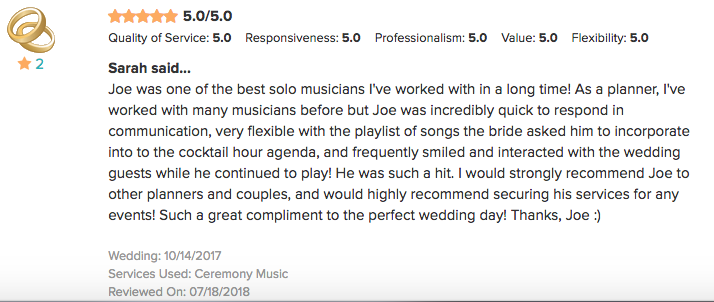 Playright Music
Average rating:
3 reviews
Oct 12, 2020
Memorable Night
Joe was absolutely perfect for my proposal night. He was playing the piano as my fiancee and I entered the Presidental Suite at the Jefferson. He truley made the night special. My fiancee had a red dress on and Joe honored her with the song "Lady in Red". I felt the night continued to have such a romantic and intimate feel because of his playing. Joe deserves the highest praise. I want to thank him very much.
Oct 12, 2020
A great musician
We have the privilege to attend 2 of Joe's concerts & we were going to another when the Corona virus hit. Hoping to get to see another soon.

Joe is a great musician & he & his family are some of our dear friends.

Joe, take care of those fingers! Maybe you should insure them! 🙂
Oct 12, 2020
Wow Joe you were GREAT!!!! Thank you so much. YOU MADE THE PARTY!!! I look forward to hiring you again!!!!!!









Mary La Fratta